Providing the Best Mortgage rates to British Columbians!
Obtaining a mortgage is one of the largest decisions that a British Columbian can make, and requires careful consideration and an a number of qualified individuals. With 8 years of experience in the financial planning industry, Karen Canning is very excited to be a mortgage advocate for British Columbians.
I think we would all agree that competition results in better produts in services for; however recent report by CMHC shows that over half of Canadians don't "shop for several proposals", this can result in higher interest rates on your mortgage - and higher interest costs! At Mortgages BC I educate clients on how to receive the lowest rates possible, and provide them with a Mortgage Analysis after qualification comparing some of the best products available, with the lowest rates' on the market for British Columbians. Whether you opt for a variable rate or a fixed rate, my goal is to provide the best product at the lowest rate for you!
Getting my clients the best rates is just the start. As your personal mortgage broker, I will work hard to make you happy, negotiate the best mortgage possible and use my Financial Advantage Program to:
Package my clients' mortgage application to get the lowest rates from our lenders (The banks just take your information and give you a yes/no answer). With my Financial Advantage Program your application will be uniquely designed to get you qualified at the lowest possible rates.


Educate clients on how to pay off your mortgages in the shortest period of time. I will provide you with a program uniquely designed to your income & financial situation to maximize your savings.
You're Invited...

Please Join us for an Educational Evening with Industry Leaders and Special Guest Speakers.
In partnership with our network of Certified Financial Planners we are pleased to present a Seminar outlining the benefits of our Equity Mortgage and our Financial Advantage programs on April 8th at the Fort Langley Golf Course and April 10th at the Newlands Golf Course.
Highlights include:
How to Make Part of your Mortgage Tax Deductible
How to Get rid of Debt Fast and Easy
Where to invest to profit from the US Subprime Situation
How to profit from the US Subprime situation
Call today and book your Reseravation. Seating is limited and is reserved on a first call basis.
Spring Clean your Finances...

Use the equity in your Home to Spring Clean your Finances!
Did you know? When you pay all your credit cards off at one time your credit score can increase at a rapid pace? It also can save you thousands of dollars. Download a Scenario today, or apply online for a customized analysis for British Columbians.
Debt Consolidation
Saving money is important to all of us, so consolidating high interest debt into a single mortgage loan can do just that. You have the option to combine your debt at the time of your home purchase or it can be done at a later date. Whichever option you choose, it will save you money in the long run.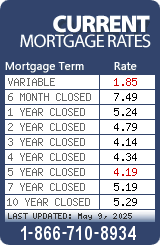 Today's Prime Rate
3.00 %
Prime, meaning "best", is the discounted rate big banks generally offer for their variable rate mortgage, at mortgagesBC, we can offer prime minus per cent for a low mortgage interest rate of 2.45 %.