Mortgage Calculator
Quick Explanation
Amount To Mortgage: This is the Mortgage amount required. For a purchase it is the purchase price of your home less the down payment.
Interest Rate: This is the interest rate the calculation uses, for example today's 5-year rate is 2.84 %.
Amortization Period: This is the number of years it takes to pay off your mortgage in its entirety, it is the period where by making only the minimum payments you are mortgage free.
Payment Frequency: This is how you wish to pay your mortgage. You can usually pay either once per month (e.g. on the 1st), semi-monthly (1st and 15th), bi-weekly (Once every 2 weeks), and once per week.
More Information
If you require a detailed repayment breakdown, or would like to add CMHC insurance fee to your mortgage calculation, please visit CanEquity Mortgage. The mortgage calculator provided here will summarize the payments, balances and interest over the life of the mortgage in seconds. CanEquity's mortgage calculator is rated the best mortgage calculator in Canada by The Globe and Mail.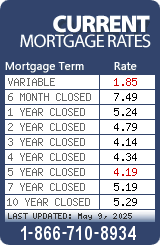 Today's Prime Rate
3.00 %
Prime, meaning "best", is the discounted rate big banks generally offer for their variable rate mortgage, at mortgagesBC, we can offer prime minus per cent for a low mortgage interest rate of 2.45 %.